As part of our virtual edutainment efforts, we are happy to dedicate this song from our recent virtual event to Jack and Jill of America, Inc., - an organization with strong legacies of being a positive influence in the lives of children and families.
"All Legislative Powers herein granted shall be vested in a Congress of the United States, which shall consist of a Senate and House of Representatives." (Article I, Section 1, of the United States Constitution)
How Are Laws Made?
Laws begin as ideas. First, a representative sponsors a bill. The bill is then assigned to a committee for study. If released by the committee, the bill is put on a calendar to be voted on, debated or amended. If the bill passes by simple majority (218 of 435), the bill moves to the Senate. In the Senate, the bill is assigned to another committee and, if released, debated and voted on. Again, a simple majority (51 of 100) passes the bill. Finally, a conference committee made of House and Senate members works out any differences between the House and Senate versions of the bill. The resulting bill returns to the House and Senate for final approval. The Government Printing Office prints the revised bill in a process called enrolling. The President has 10 days to sign or veto the enrolled bill.
To ensure a separation of powers, the U.S. Federal Government is made up of three branches: legislative, executive and judicial. To ensure the government is effective and citizens' rights are protected, each branch has its own powers and responsibilities, including working with the other branches.
Stay safe! We'll ZOOM to your next virtual event! We tailor our interactive events as age appropriate. Audition us LIVE any Wednesday! If you are working from home, Doug The Talking Dog can say your child's first name if you type it in the comments on Facebook LIVE. Children ages 2 to 102 are invited to join us every Wednesday for the
free
INTERACTIVE Drumming WITH Dummies Facebook LIVE fun. Drum along VIRTUALLY... using anything at home that you whack, shake, or scrape to make sound. Every Wednesday at 10:00 AM & 2:00 PM ET! We learn better when we laugh™
EXPERIENCE musical terms including tempo, dynamics, crescendo, and more LIVE. Parents and children are encouraged to ask questions online about the Irish Bodhrán, Tahitian Toeré, Trinidadian mini-steel drum or the many other percussion instruments.
Call/text 617-901-6232 for more details.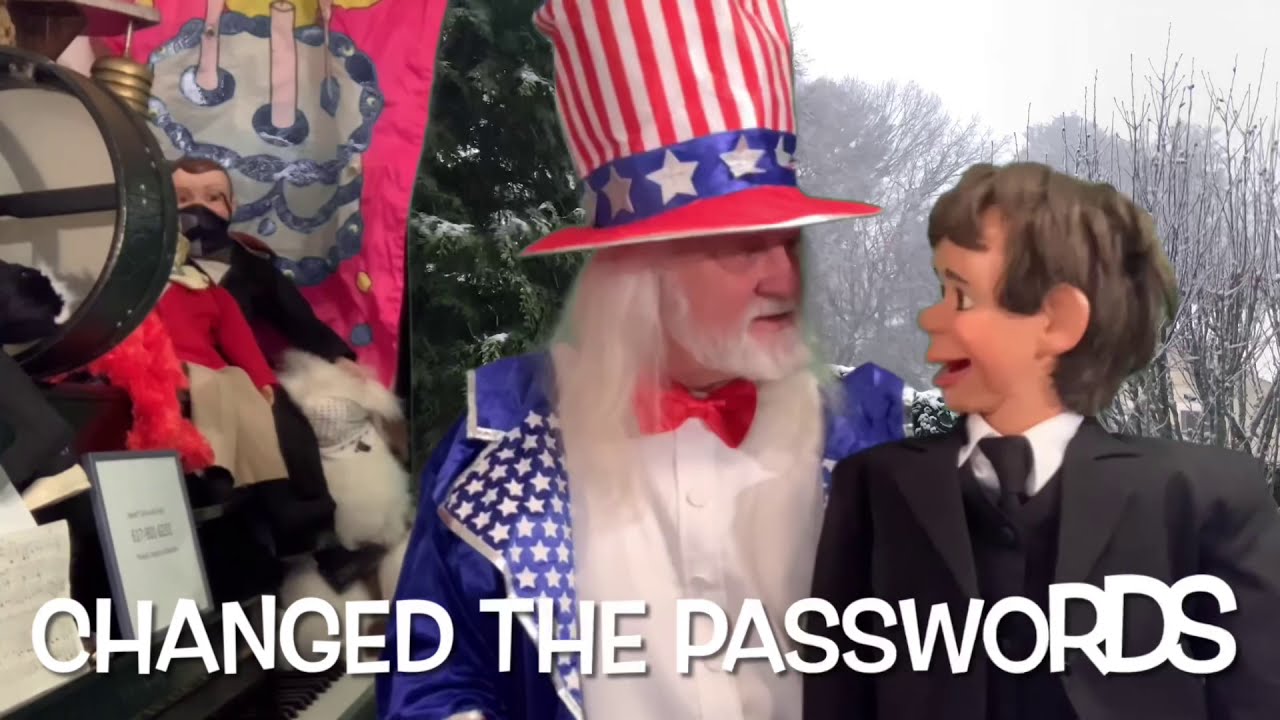 We hope you enjoy our above three minute Password Parody loosely based on Abbott and Costello's timeless "Who's On First?" comedy routine. Please note the birthday flag in the background. We can also add your pictures and videos to our green screen.
Musical Ventriloquist Comedy -Entertaining Children ages 2 to 102
Doug The Talking Dog will not bite children. He only bites Mommies and Daddies. Please contact us for your next VIRTUAL or in-person social distancing event?
Birthdays

Celebrations

Chabad/Jewish Events

Corporate

Cub Scouts

Day Care

Libraries

Santa

Schools

Seniors

Singing Telegrams
Pre-pandemic performances include the following: