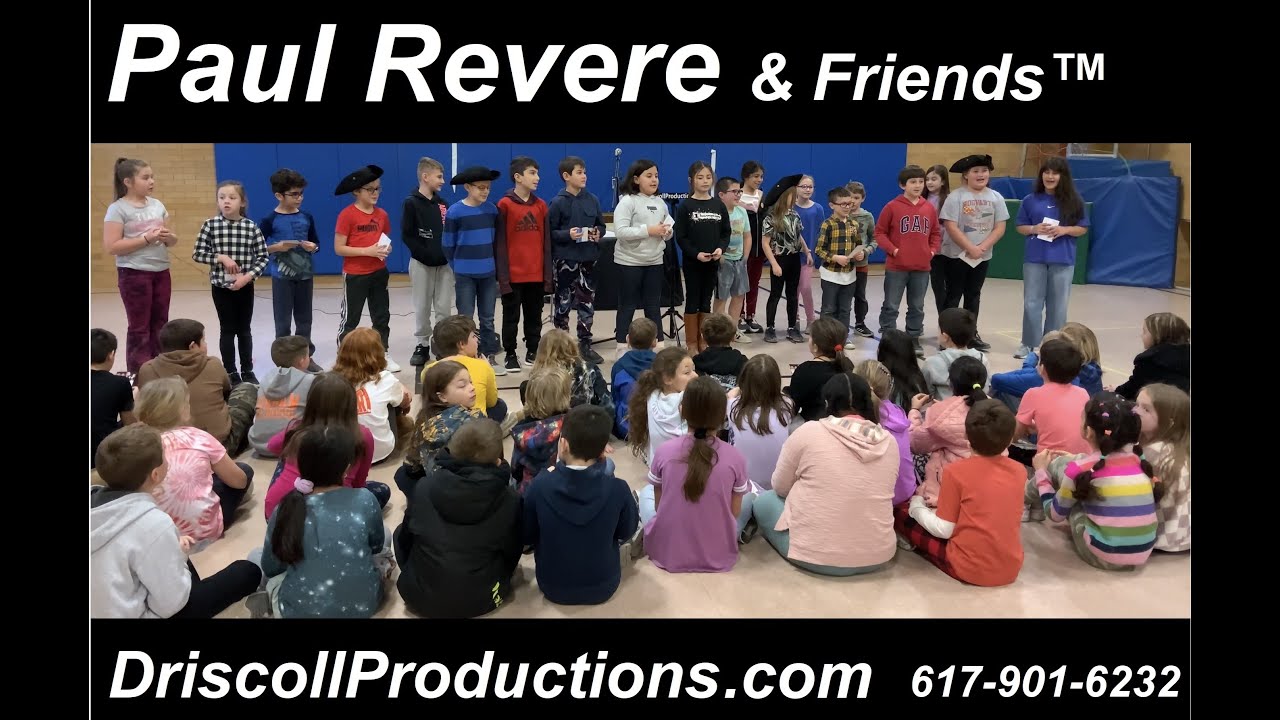 Kevin Driscoll is Paul Revere
Invite Paul Revere to your school. Kevin Driscoll, M. Ed. is a Massachusetts Certified Teacher with decades of teaching experience. His FIVE STAR "Paul Revere & Friends" INTERACTIVE performance is in full compliance with the goals of the Massachusetts History and Social Science Curriculum Framework [3.T6].
As documented on Page 56 at
https://www.doe.mass.edu/frameworks/hss/2018-12.pdf
-
"Topic 6. Massachusetts in the 18th century through the American Revolution [3.T6] Supporting Questions: Why is Massachusetts important to the nation's history? How did different views about the fairness of taxes and government lead to the American Revolution?"
The INTERACTIVE learning experience includes "the beginning of the Revolution at Lexington and Concord, Massachusetts (April, 1775) … and the roles of Revolutionary leaders such as Paul Revere..."
"Kevin Driscoll... ventriloquism, education, and music... so much fun" The Boston Globe
Kevin Driscoll - DriscollProductions.com - 22 Driscoll Drive - Framingham, MA 01701
We learn better when we laugh™
Text/Call: 617-901-6232
Please invite the Driscoll Dummies to your school VIRTUALLY or LIVE in-person. With a master's degree in education, Kevin Driscoll will develop a VIRTUAL or LIVE in-person educational and entertaining program to meet all your requirements. Kevin is a Massachusetts Certified Teacher with teaching experience at Pre-K, Elementary Schools, Middle Schools, High Schools, Colleges, and Universities. He is also older than dirt.
The Driscoll Dummies NO BULLY ZONE interactive ventriloquist show helps students identify bullies and bullying behaviors and provides effective strategies in coping and dealing with bullying. Through humorous Ventriloquist face mask routines involving several volunteers from the audience, Kevin Driscoll will help identify the four main types of bullies and associated bullying behaviors: 
Cyber Bullying - bullying behavior using technology, as in harmful texts or emails
Physical Bullying - hitting, pushing and harmful physical contact 
Verbal Bullying - name calling and teasing
 Social or Relational Bullying - exclusion and leaving one out 
 The Driscoll Dummies help students recognize where bullying takes place and why. They show students a process to take control of the situation themselves by first teaching how to identify the bully, the victim and the bystander in a bullying situation.  They also explain the consequences of being a bully.
Students are taught to take action while staying safe using the acronym SAFE: Stand tall and speak up, Ask for help, Figure out your options and End it calmly by remaining cool and in control. 
Also, students are taught how to respond and how to be a HERO - Help out, Empathize, Report and create Open communication.
 Best of all, the above lessons are reinforced through ventriloquist comedy. Kids Learn Better When They Laugh™. The Driscoll Dummies will give you and your students the foundation you need to continue battling bullying in your commmunity. Audience participation, comedy plus loads of ventriloquism and great messages on how to be your own personal best makes this show a winner!
Kevin Driscoll is a Massachusetts Certified experienced teacher and former GM of a small international Internet Company.  Internet pioneer and national speaker with CYBER PATROL... including one presentation to Congress.
As part of our virtual edutainment efforts, we are happy to dedicate this song from our recent virtual event to Jack and Jill of America, Inc., - an organization with strong legacies of being a positive influence in the lives of children and families.
"All Legislative Powers herein granted shall be vested in a Congress of the United States, which shall consist of a Senate and House of Representatives." (Article I, Section 1, of the United States Constitution)
How Are Laws Made?
Laws begin as ideas. First, a representative sponsors a bill. The bill is then assigned to a committee for study. If released by the committee, the bill is put on a calendar to be voted on, debated or amended. If the bill passes by simple majority (218 of 435), the bill moves to the Senate. In the Senate, the bill is assigned to another committee and, if released, debated and voted on. Again, a simple majority (51 of 100) passes the bill. Finally, a conference committee made of House and Senate members works out any differences between the House and Senate versions of the bill. The resulting bill returns to the House and Senate for final approval. The Government Printing Office prints the revised bill in a process called enrolling. The President has 10 days to sign or veto the enrolled bill.
To ensure a separation of powers, the U.S. Federal Government is made up of three branches: legislative, executive and judicial. To ensure the government is effective and citizens' rights are protected, each branch has its own powers and responsibilities, including working with the other branches.