This 8/15/23 program is free and open to all ages. It is funded in part by a grant from the Framingham Cultural Council, a local agency which is supported by the Mass Cultural Council, a state agency.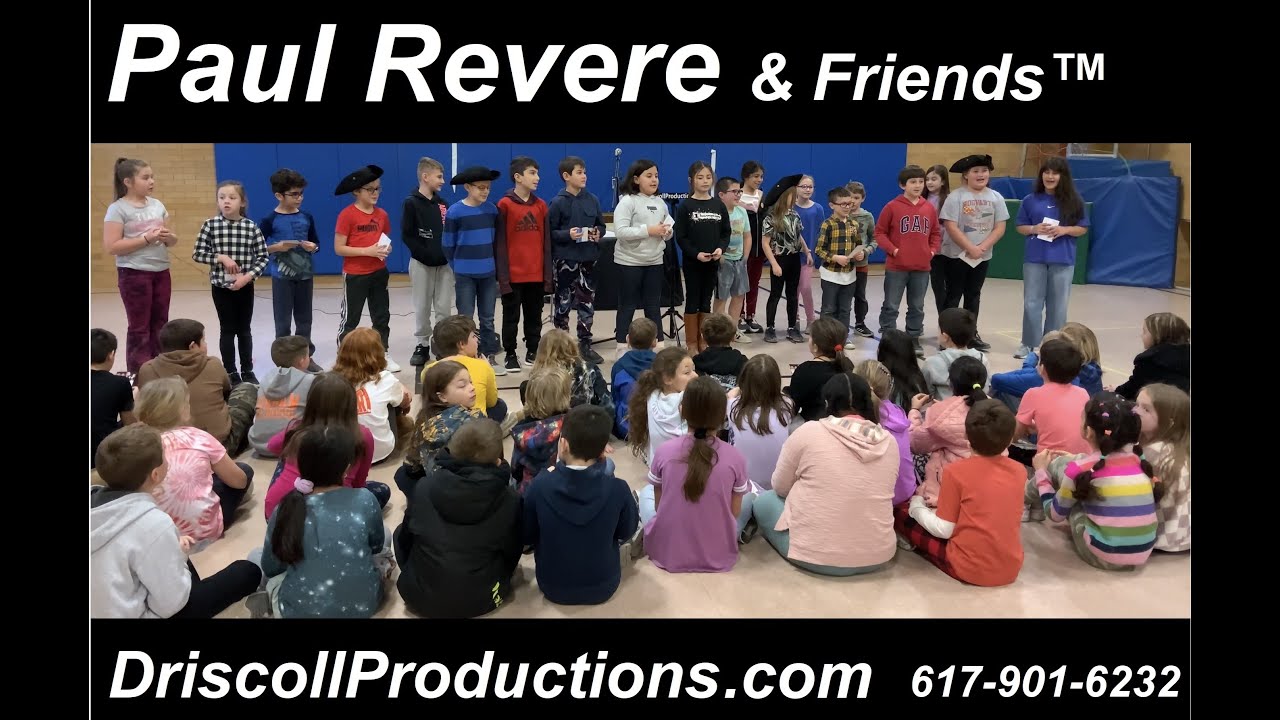 Kevin Driscoll is Paul Revere
Invite Paul Revere to your library. Kevin Driscoll, M. Ed. is a Massachusetts Certified Teacher with decades of teaching experience. His FIVE STAR "Paul Revere & Friends" INTERACTIVE performance is in full compliance with the goals of the Massachusetts History and Social Science Curriculum Framework [3.T6].
As documented on Page 56 at
https://www.doe.mass.edu/frameworks/hss/2018-12.pdf
-
"Topic 6. Massachusetts in the 18th century through the American Revolution [3.T6] Supporting Questions: Why is Massachusetts important to the nation's history? How did different views about the fairness of taxes and government lead to the American Revolution?"
The INTERACTIVE learning experience includes "the beginning of the Revolution at Lexington and Concord, Massachusetts (April, 1775) … and the roles of Revolutionary leaders such as Paul Revere..."
"Kevin Driscoll... ventriloquism, education, and music... so much fun" The Boston Globe
Kevin Driscoll - DriscollProductions.com - 22 Driscoll Drive - Framingham, MA 01701
We learn better when we laugh™
Text/Call: 617-901-6232
Please invite the Driscoll Dummies to your library. Performances available for adult and children audiences. Libraries in Massachusetts have received grants to fund our performances. With a master's degree in education, Kevin Driscoll will develop an educational and entertaining program to meet all your requirements. Kevin is a Massachusetts Certified Teacher with teaching experience at Pre-K, Elementary Schools, Middle Schools, High Schools, Colleges, and Universities. He is also older than dirt.
"Wonderful" - Paula Dugan, Children's Supervisor - Needham Public Library
"Unique" - Samantha Riley, Parent - Needham Public Library "Amazing" – Walter Godoy, Parent - Needham Public Library See above quotes and more still available online:
http://hometownweekly.net/needham/kids-play-drums-dummies/
Children EXPERIENCE musical terms including tempo, dynamics, crescendo, and more LIVE. Parents or older children are encouraged to ask questions online about the Irish Bodhrán, Tahitian Toeré, Trinidadian mini-steel drum or the many other percussion instruments. We learn better when we laugh™
Musical ventriloquist performs at new Stoughton Library